You are a wise soul and now it is time we take responsibility and do all we can to help this vessel we call body to be in optimal condition:
One of the key elements to our wellness is to see to it that our brain is as balanced as possible. (Having had a head injury, years of research and living this miracle has proven this to be true)
We have millions of neurotransmitters that communicate on a nanosecond basis and makes up the foundation of how we experience life. The patterns, how we walk and talk and process every aspect of this incredible journey.
There are many ways we can experience an imbalance, some times fleeting and sometimes it feels like it may last forever. Be it chemical, or physical or emotional. As we age or experience illness or trauma not only to the head but the neck and rest of the body as well. It can be from an emotional experience or even poor nutrition or ingesting something that did not agree with you. All of these may play a role in the possibility of a brain imbalance.
Some of the symptoms may be:
Depression, anxiety, mood swings, insomnia, confusion, dizziness, even obesity can be a signal that something is out of balance.
(Please note that an imbalance of the inner ear may cause the same type of symptoms)
We know that every cell in the body is made up of energy and vibration. We also know that certain tones and sounds may have a tremendous healing and balancing effect on the brain as well as the body as a whole.
Open Wisdom offers a variety of ways to help you achieve your brain balancing goals:
(1) The most effective tool in our toolbox is right there within you. We offer an all day experience that will teach you these techniques and you will have an opportunity to experience this live and in person. Please click here to register for the "Intentional Wellness Experience" and to find our more details.
(2) A private session where Sounds of the Soul tones are used in bringing balance for both hemispheres of the brain. Click here to make an appointment and find out more info.
(3) Purchase Sounds of the Soul CD or Sounds of the Soul Deep Healing Meditation CD: Click here..
(4) Email Sheila Z with any questions or to pre schedule a phone session.
(Sounds of the Soul has been tested by a quantum physics company and found that the tones do indeed have a positive and balancing effect of the brain)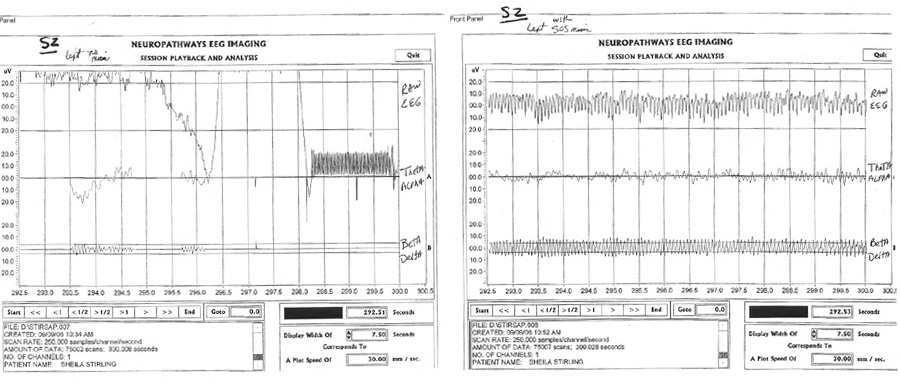 This picture shows a brain wave test of a head trauma injury. On the left side is the resting brain waves, Alpha, Beta, Theta and delta. On the right side is the same brain about 3 minutes later when having headphones with Sounds of the Soul CD playing. As you can see all the brain waves have come to a place of balance an within normal ranges.)